What to expect at the festival?
We'll have artisans demonstrating their skills (and offering for sale some of the things they make, should you like what you see), some great music on stage (if you play an instrument and want to jam, you can join in one of the jam sessions), square dancing with live music (including you if you so choose) as well as clogging.  There will also be historical exhibits, food and fun activities for the whole family.  You can become part of the festival yourself by dressing up in period clothing to take part in photo shoots and contests.  If you'd like to dress "period" but can't make your own,  we have some great sources locally who can supply period clothes – just contact us.
Is there a musical jingle to get me in the festival mood?
Of course!  And here it is…. (Bevy Moore – vocals, Junior Marriott – guitar, words by Darlene Sorensen)
Should I bring a lawn chair to sit on (or maybe a blanket)?
Absolutely!  We plan to have hay bales to sit on around the festival site, but a lightweight lawn chair will make your visit more enjoyable, especially during the music, or maybe a blanket will work for you.  We suggest putting your name and some contact information on the chair, just in case….
What does it cost to attend?
To help cover festival costs (musicians, event insurance, signs, printing, etc.) we'll have a donation box at the gate.  We're suggesting a donation of $5 for each adult (18+).  (Even nonprofits have to pay bills!) However, no one will be denied admission to the festival due to inability to make a donation.   We appreciate any support you can give!
How do we get there?
The Pioneer Heritage Festival is located in central Douglas County Missouri, south of US 60.
From Springfield Missouri:  Take US 60 east to the first Mansfield exit (Highway 5 -south); take Highway 5 south to Ava,  At Ava, turn left at stoplight (McDonalds) and follow Business 5 to the downtown square. Make a left turn around the square, then go right (east) on Highway 14  out of town, about 12 miles. Right after the Bryant Creek bridge, you will see the festival site on your right.
Alternatively, you can take US 60 from either Springfield or from points east (Poplar Bluff, etc) to Norwood, and exit south onto "C" Highway.   Just follow "C" through Norwood, over the RR tracks where "C" turns sharply left, then continue south on "C" into Douglas County, all the way (about 17 miles) until it meets Highway 14.  Turn right on Highway 14 and go about 2 miles downhill to Bryant Creek. The festival site will be on your left before the bridge.
From West Plains, Missouri just take State Highway 14 west into Douglas County all the way to Bryant Creek (about 2 miles after you pass Highway "C".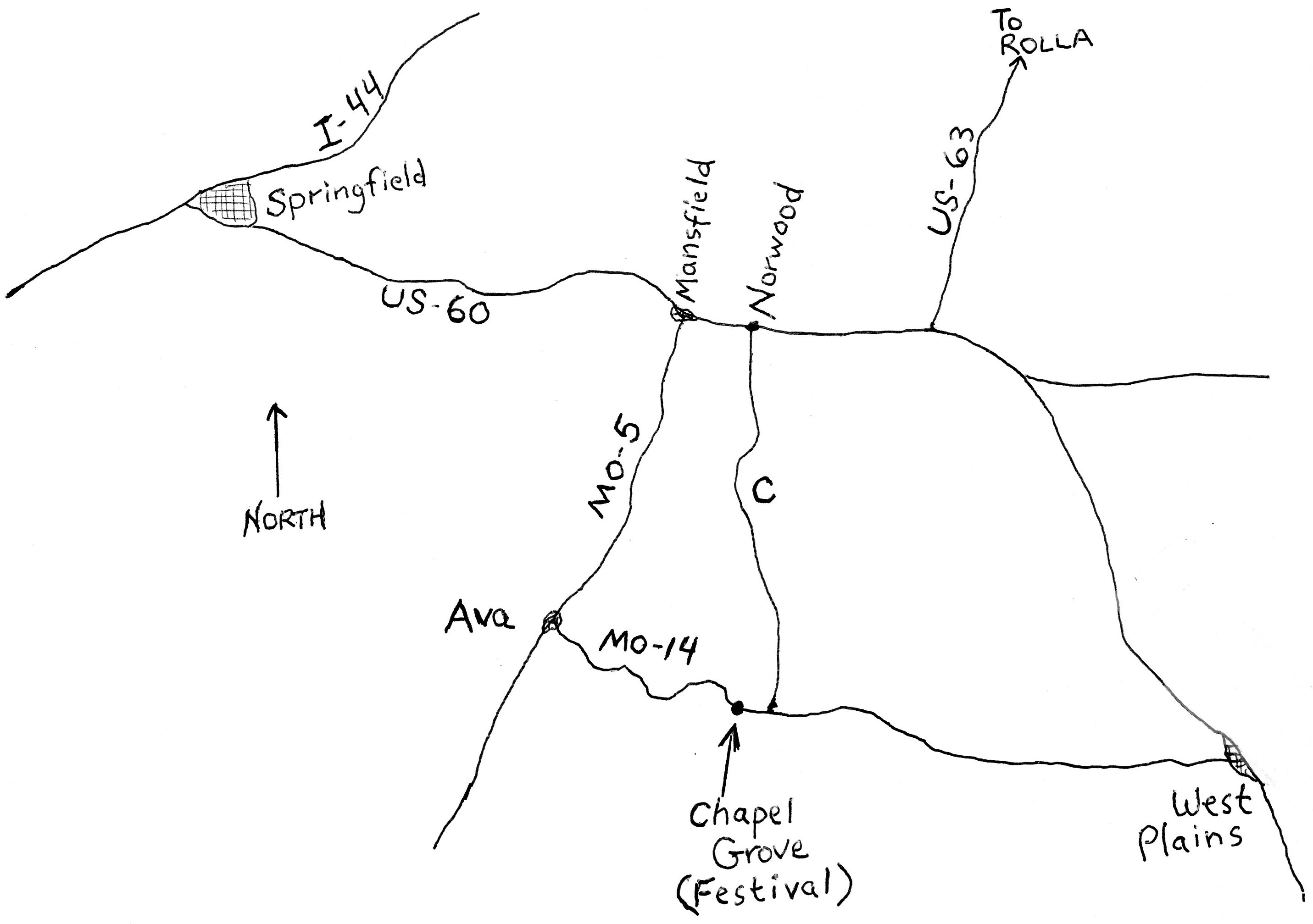 ♦♦♦♦♦♦♦♦♦♦♦♦♦♦♦♦♦♦♦♦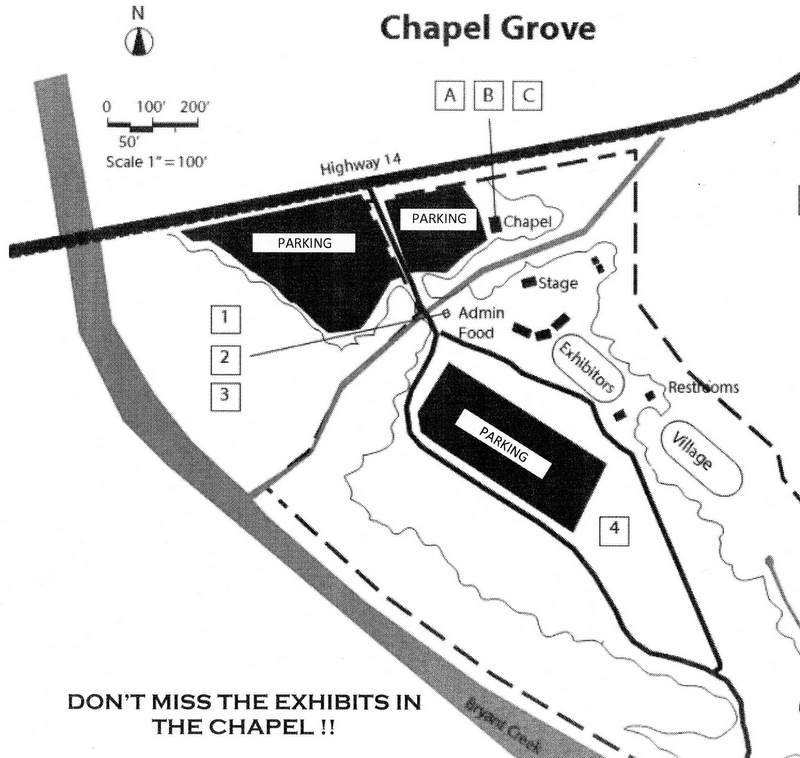 What if I want to be an exhibitor, re-enactor or other participant?
Just download our application below, print it out and mail it to us (RR72 Box 503  Norwood MO 65717) or phone us at (417) 746-4006 and we'll be happy to mail you a printed form.  PLEASE NOTE: no set up fee will be charged, but an application must be completed and approved, and while exhibitors may sell what they produce, they are expected to demonstrate their skills during the festival.   Applications should be returned as soon as possible so that we can reserve your space.  Approved exhibitors will be featured on our website.
PHFO Festival application 2017
If you'd like to have a bake sale for you church or nonprofit, you can also set up for that and keep the proceeds for your group.  Contact us for details.
How can I contact you?
If you have questions, please call (417) 746-4006 or email:  heritage417@gmail.com
WE SURE HOPE TO SEE YOU THERE!
October 7th and 8th, 2017