OUR 2017 FESTIVAL WAS A GREAT SUCCESS! PICTURES WILL BE FORTHCOMING.  IN THE MEANTIME, THANKS TO OUR EXHIBITORS, MUSICIANS, SPONSORS, DONORS, VOLUNTEERS AND ALL  THOSE FOLKS WHO TOOK TIME TO COME OUT AND CELEBRATE OZARKS CULTURE!
PLEASE KEEP IN TOUCH FOR FUTURE EVENTS, AND LET US KNOW WHAT YOU THINK WE CAN DO BETTER! CONTACT US AT:

ΘΘΘ
Come join us  October 7th and 8th, 2017  in Douglas County, Missouri for a festival celebrating Ozarks culture with heritage artisans, great live music, exhibits, food and lots of fun activities!
For many years folks in and around Douglas County Missouri  enjoyed a wonderful week-end festival called Pioneer Descendants Gathering.  Hosted by Dale and Betty Thomas at their farm on Bryant Creek, there were wagon rides and music, sorghum making and flint knapping.  They gave us a taste of Ozarks life  "way back when".
Although 2016 marked the last of those annual events, the Thomas family created a legacy and inspiration.  And having been inspired, it's our hope that the spirit of their celebration will live on at a new location. Thus was born Pioneer Heritage Festival of the Ozarks.
Thanks to the generosity of landowner Paul Dean, we've found another beautiful site on Bryant Creek.  Our festival location is easily reached.  From Ava, Missouri take Highway 14 east about 12 miles to the Bryant Creek bridge. It's a place many local people know as "Chapel Grove".  Our first festival will be Saturday and Sunday,  October 7th and 8th, 2017 from 10am to 5pm.  For full directions, click on Festival FAQ's.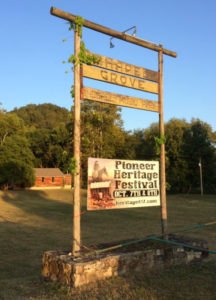 AMATEUR MUSICIANS!
In addition to the main stage acts, we've scheduled  two open jam sessions for Sunday afternoon, October 8th. Bring your instruments and join in the music making!
VOLUNTEERS!!
We still need volunteers to help pull this first festival off – everything from staffing the administration booth and helping direct traffic to running errands and making calls!  Meet new people, and become involved in our continuing efforts to educate people about our heritage!  If you want to volunteer, give us a phone call or email us. We need and will appreciate your help!
heritage417@gmail.com     (417) 746-4006.
Pioneer Heritage Festival of the Ozarks, Inc. is a 501(c)(3) non-profit.  Our mission is to preserve traditional Ozarks culture and skills, acknowledge local artisans, and build new community traditions.
While information on our website is accurate to the best of our knowledge when it was posted, it may be subject to change. Thus PHFO, Inc. makes no guarantees as to accuracy, reliability, and completeness of this content.