YOUTH TALENT SHOW
SPONSORED BY SHARRY AND JACK LOVAN
Θ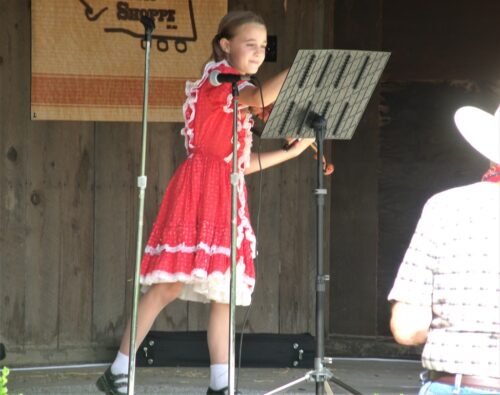 ALL ASPIRING MUSICIANS THROUGH AGE 18 WHO PLAY A TRADITIONAL STRINGED INSTRUMENT ARE INVITED TO COME ONSTAGE AND SHOW OFF THEIR TALENTS!  THE TALENT SHOW WILL BE ON SATURDAY, OCTOBER 30, 2022 FROM 12:30pm TO 1:30pm.  TO REGISTER PLEASE CONTACT SHERRY BENNETT BY CALLING (417) 693-4414,  OR EMAIL US – heritage417@gmail.com
ΘΘ◊ΘΘ
COSTUME CONTEST!!
ALL FESTIVAL GOERS ARE ENCOURAGED TO DRESS IN PERIOD CLOTHES (MEANING 19TH TO EARLY 20TH CENTURY) WHICH CAN INCLUDE ANYTHING FROM DOWN-HOME DIRTY FARMER DUDS ALL THE WAY UP TO REAL FANCY DRESS.  USE YOUR IMAGINATION!

PRIZES WILL BE AWARDED IN FOUR CATEGORIES –

BEST DRESSED GIRL

AND

BEST DRESS BOY

(UP THRU AGE 17) AND

BEST DRESSED WOMAN

AND

BEST DRESSED MAN

!
  THE CONTEST WILL BE JUDGED FROM THE MUSIC STAGE ON

SATURDAY, OCTOBER 1ST AT HIGH NOON!