Our artisans and exhibitors will demonstrate and talk about the skills they learned to produce the crafts they sell.   Come prepared with your questions and curiosity.  Maybe you'll become part of the movement to carry on these traditions!

  If you 'd like to be an exhibitor yourself, information and an application are on our Festival FAQs page. 
–ΘΘΘΘ–
  
Kathy Reser – Basketry
After growing up in Wyoming, Kathy moved to the Ozarks in 1971, where she later became interested in basket making.  In fact, she still has the first basket she made back in 1992 (which she'll have on display in her booth!)  Kathy will be at the festival to answer your questions about this ageless art, as well as have some of her items for sale.
ΘΘΘΘΘΘ
  
Tanis Schertzinger – Chair Seat Weaving
ΘΘΘΘΘΘ
   
Celeste Prussia – Pottery
After working in fiber arts for 30 years, Celeste Prussia began another career in ceramic arts 6 years ago. Using hand-built, wheel-thrown, and slip-casting techniques, she produces functional wares, sculpture, and wistful objects that bring pleasure to those who take them home. Come see Celeste work with mud as she demonstrates pinch, coil, and slab hand-building techniques and answers questions about clay and glazes. Samples of her work will be available for sale.
ΘΘΘΘΘΘ

  Butch Stone – Bow Making, Flint Knapping and Turkey Calls
Butch says he's always been interested in primitive skills, and he asks, "Why buy something if you can make it yourself?"  He's also found that kids and adults alike love seeing what he makes – and (much to his amazement) he enjoys teaching them!  We should add that Butch has generously donated one of his handcrafted primitive-style hunting bows (with arrows).   It's being featured in the benefit raffle for our festival!
ΘΘΘΘΘΘ
                                 
Dawn Stone and Janet Caudillo – Fiber Arts
Dawn and Janet will demonstrate weaving, spinning, fulling and felting.  Dawn will also exhibit some examples of naturally dyed fabric.  Have questions about these ancient arts?  They'll be happy to answer them, and will also offer for sale some of their beautiful handwoven towels, fulled wool hot pads and mug rugs.
ΘΘΘΘΘΘ
 
Duane Davis – Woodworking
Familiar to many locals who come to the Ava Farmers Market where he sets up on Saturday mornings, Duane makes handsome furniture and boxes from native cedar and other woods.  Duane is so popular, he struggles to keep up with demand.  But we hope in addition to talking about how to turn a tree into a table he'll have some of his items for sale.
Pioneer Heritage thanks Duane for the beautiful wooden butter churn he made and gave to us for use in collecting donations at the festival entrance!
ΘΘΘΘΘΘ

Jo Ann Hereford and Missy Shay – Fiber Arts
A member of the Piece and Friendship Quilt Guild, Jo Ann will demonstrate and answer questions about the venerable art of quilting – both construction and various techniques.  Meanwhile, Missy is bringing a treadle sewing machine to show our festival goers how this wonderful human-powered device made life easier for those on the homestead.
ΘΘΘΘΘΘ
   
Matthias Penn – Traditional Blacksmith
Matthias makes custom ironwork for a variety of uses, including household, outdoor cookery, tools, railings and more.  Using a forge, anvil and hand tools, he masterfully shapes iron to fit its new purpose.  "Ty" will be at the festival on Sunday only.   His Facebook page is "Ty Penn".
ΘΘΘΘΘΘ
Country Heritage Spinners and Weavers Guild
and 
Highland Fiber Artists – Fiber Arts
ΘΘΘΘΘΘ
Gary Herd – Turkey Calls and Handmade Fishing Tackle
Gary doesn't just make funny noises with his turkey calls – he gets turkeys interested!  And for proof that his turkey calls work, take a look for yourself at his website.   Gary grew up in Ozark County, Missouri before they had electricity.  He not only learned turkey calling, but also became an experienced woodworker who has made mountain dulcimers and mandolins (which he can play) in addition to turkey calls.   Come let Gary introduce you first-hand to the fascinating world of turkey calling, fishing tackle, and many another thing!
ΘΘΘΘΘΘ

Nancy Jacobson – Gourd Art
Nancy Jacobson and her Elohi Spirit Gourds are from Pottersville, Missouri, where she has a small Native and Natural gift store.  The gourds are home-grown, individually numbered, and one-of-a-kind.  Elohi means "Earth" in Cherokee, and  her gourds are often decorated with Native American themes.  Nancy will demonstrate how to weave pine needles on gourds, and will also offer complete gourd weaving kits for those who want to try it themselves. Note: Nancy will be at the festival on Sunday only.
ΘΘΘΘΘΘ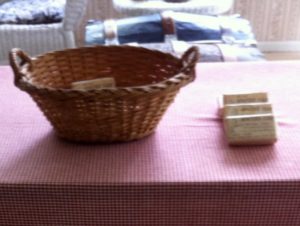 Debbie Berthold – Scented Soap Making
Besides laundry soap, pioneer ladies often made personal soaps with natural fragrances – like lavender and honeysuckle.  You can ask Debbie to explain the process of making scented soaps,  as your nose is delighted by the lovely aromas in the bars she makes by hand.  (And if you'd like unscented soap, she'll have that too!)
ΘΘΘΘΘΘ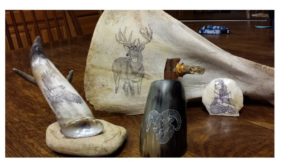 Devil's Backbone Knives and Designs – Flint Knapping and More
Besides displaying his hand forged knives, utility items, scrimshaw and leatherwork, Bobby Walker of Dora, Missouri will demonstrate  flint knapping.  He says  "I feel very fortunate for these age old traditions to have been taught to me, and I in turn expect to pass them along to future generations as well.  If we don't pass these traditions down, then a part of history may be lost or forgotten forever."
ΘΘΘΘΘΘ
Uhlmann Baskets – Basketry
Have you ever wondered how a tree can be turned into a basket? Steve and Debbie Uhlmann of Drury, Missouri will demonstrate the fine art of weaving and lacing baskets from native white oak trees.  They will be at the festival all day Saturday as well as Sunday after 1pm.
ΘΘΘΘΘΘ
 Booger County Knappers – Flint Knapping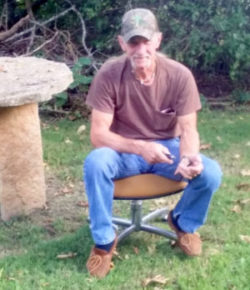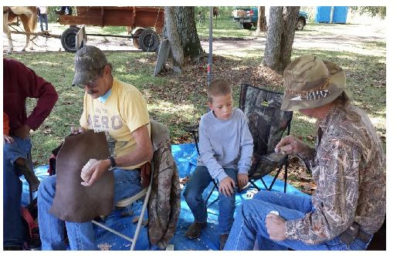 Allen Flood, Don Reed, Jim Ivy, Guy Pace, Butch Stone and Bobby Walker are among this group of local flint knappers who are happy to demonstrate this skill to anyone, young and old.  For ancient peoples, including the Native Americans who populated the Ozarks long before settlers arrived, the ability to create knives, arrows, and spear points was essential.  We may not need stone tools today, but besides its recreational value, studying flint knapping techniques has played a major role in archeology and anthropology as a way to identify and understand many ancient cultures.  Come ready with your questions!  If you found an arrowhead while walking near an Ozarks stream, would you know how it was made?
ΘΘΘΘΘΘ
Joe Picking – Leatherwork
Belts, some may be surprised to find out, are a relatively recent addition to men's clothing, only becoming common right after the First World War (1917).  Had he been alive back then,  Joe Picking would probably have had a thriving business as young men began to cut off the cinches and use the newly provided belt loops on their denim jeans.   Besides belts, Joe will display and demonstrate hand-tooled leather goods such as knife sheathes, holsters, and leather cases.
ΘΘΘΘΘΘ
Jewel Krasinski – Herbalist
Early settlers weren't likely to have had a drug store or doctor anywhere close to where they lived.  Getting to one would have been difficult in any case.  Even so, they were likely to have some understanding of the healing powers of  certain plants growing near their homes.  Jewel will describe the making and use of medicinals from herbs, such as salves and tinctures, and will also describe the use of local wild edibles.
ΘΘΘΘΘΘ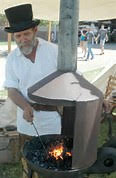 Sid Brink – Blacksmith
Sid tells us he plans to bring his forge and anvil to show festival goers how metal was formed into useful and decorative things.  He's been blacksmithing for more than twenty years now, and has been known to wear a top hat while he works!
ΘΘΘΘΘΘ
Thompson Custom Creations – Scroll Sawing
Before electricity or the wide availability of small engines, many machines could be operated by foot power.  Treadle powered scroll saws were one of these.   They allowed craftsman to create such things as cutouts for wooden spoons, home accessories, decorative items and puzzles.  Brian Thompson will demonstrate the use of the foot powered scroll saw and some of the things that can be made on it.
ΘΘΘΘΘΘ
Living Traditions Homestead – Soaps, Salves,Rabbits & More

As you might guess from the name of their farm , Kevin and Sarah Matthews and their family are proof that homesteading is alive and well in the Ozarks.    As they follow their dream of a sustainable lifestyle, Kevin and Sarah share the knowledge they've gained with viewers around the world. Videos and articles describing everything from making cheese to corn nuts and chicken tractors are accessible both at their website and their You Tube  channel.   They also run a booth at the Saturday morning farmers market on the Ava Square (April through October).  On the weekend of our festival, though, they plan to be down with us, selling soaps and salves, talking about how to raise rabbits for meat, and answering any questions you might have if you also want to live sustainably.
ΘΘΘΘΘΘ
Cherokee Bones N Stones
Gene Mace makes Native American jewelry (earrings and necklaces) from precious stones, buffalo teeth, crow bones, and deer bones.  He says the "swirl bone" from deer is especially beautiful.  He also makes arrowheads, having been taught by his great-grandpa, who started him off practicing the technique on pieces of glass taken from the bottoms of old mason jars.  Gene grew up in this area, and loves to talk about the old ways.  Pull up a chair, and listen!
ΘΘΘΘΘΘ
Adele Voss – Fur Trade Era Accoutrements & Old Time Toys
ΘΘΘΘΘΘ
Sue Walters – Period Clothing

Sue Walters has extensive experience in period dress and re-enacting life in bygone times – from the Medieval era to the American Civil War.   She and her husband have been active re-enactors for two decades.  If you have a question about period clothes, and what goes into making them, Sue can probably answer it!  You can find her website by clicking here.
ΘΘΘΘΘΘ
Louise Walker – Pottery
ΘΘΘΘΘΘ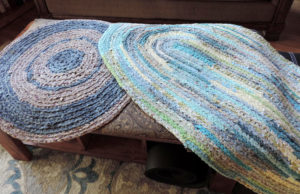 Diane Richards – Rag Rugs
ΘΘΘΘΘΘ
Farm Resettlement Congress – Sustainable Living

How did settlers in the Ozarks feed themselves before grocery stores and intercontinental food transport?   More importantly, how can we feed ourselves without relying so much on a energy-devouring system that is much more fragile than many of us realize?  The Farm Resettlement Congress has some amazing answers!
ΘΘΘΘΘΘ
Easy's Woodshop – Woodworking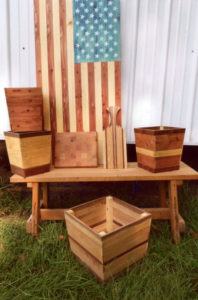 Old homesteads and abandoned outbuildings dot the Ozarks landscape.  But where some might see an old barn on the verge of collapse, Eric sees a pile of finely weathered lumber.  He will talk about how he finds and refinishes these bits of Ozarks history and turns them into outdoor furniture, wooden planters and cutting boards!
ΘΘΘΘΘΘ
Lakey and Lakey – Hay, Feed and Seed
ΘΘΘΘΘΘ
Jimmie and Linda Strauch – Wooden Spoons and Bowls & Rag Rugs
Wood is such a versatile material, and for pioneers it was an affordable way to create some of the most needed kitchen items – spoons and bowls.  Jimmie and Linda will demonstrate how they did this, and Linda will also show you how a rug can be made on a log loom.
ΘΘΘΘΘΘ
April Pratt – Crocheted Items
ΘΘΘΘΘΘ
FamilySearch.org – Genealogy
ΘΘΘ