THREE CONTESTS ON SATURDAY, OCT. 7

a Corn Bread Cook-Off

an Embroidery Contest, and
a Period Costume Contest!
We'll also have races and contests for kids both Saturday and Sunday.

FOR DETAILS, SEE BELOW!
ΘΘΘ

   CORN BREAD COOK-OFF!
There will be two divisions:  YOUTH (ages 5 to 17)  and ADULT (ages 18 to 119).   Have your favorite corn bread recipe (sweet or savory) cooked and delivered to the Chapel Grove chapel building by 11 am on Saturday, October 7.  Judging will take place at 11:15 am. You can pick up your dish after 11:30 am. Our winners will be announced from the stage at High Noon. (You may want to consider a disposable aluminum type pan).
ΘΘΘΘΘΘΘΘΘΘΘΘ
 EMBROIDERY CONTEST!
There will be two categories:   NEW (Completed after 2000) and ANTIQUE (Completed before 2000).  Embroidery to be entered in the competition must be brought to the chapel by 12:00 Noon on Saturday, October 7th. Winners from each category will be announced from the main stage later in the afternoon , around 4:45 pm.
ΘΘΘΘΘΘΘΘΘΘΘΘ
 PERIOD COSTUME CONTEST!
While you don't have to dress up in period clothes to be at our festival, it could be fun!  And we plan to make it more fun with a period clothing costume contest!  There will be three divisions:  VERY YOUNG (ages 0 to 7), YOUTH (ages  8 to 15) and  NOT SO YOUNG (ages 16 to 119).    All our costume contestants will gather behind the stage at 2 pm.  At about 2:30 they will appear on stage for judging.  Winners will be determined by cheers from the audience!.

What to wear??   Darlene Sorensen, our activities coordinator,  is shown here in a dress custom tailored for her by  local seamstress Thelma Martin.  "Period clothes" for our festival means anything an Ozarks homesteader, "mountain man" (or woman!) or townspeople might have worn from  the 1860s to the 1920s.   That clearly leaves room for imagination!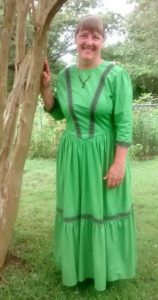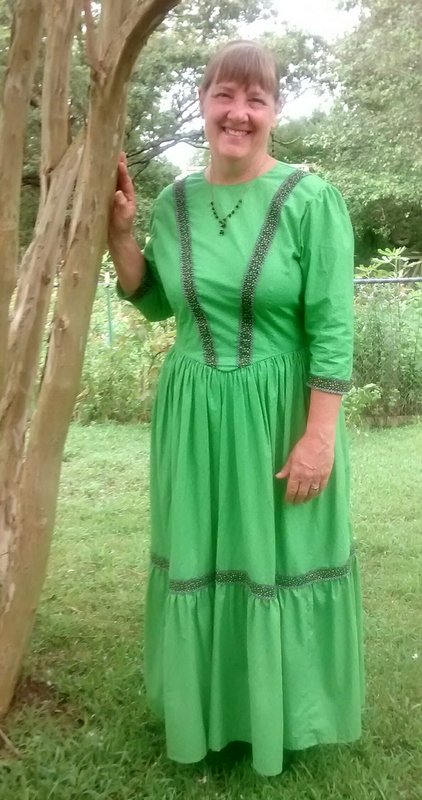 In case you're still stumped, here are some period costume resources: 
Thelma Martin, Mansfield Missouri  – (417) 924-3093  – Thelma will happily tailor a woman's dress or man's shirt in early Ozarks period style just for you.  You can provide the material, or she will obtain it.  We hear that Thelma's rates are extremely reasonable with fast turn-around time.   You can call her for more details.
Sue's Old Fashions – Mountain View, Missouri   – (518) 578-2833  or email: suesoldfashions@yahoo.com   –  Owner Sue Walters has extensive experience in making period clothing from the 1790s to the 1910s.   You can see examples of her work at her website:  www.suesoldfashions.com    While Sue usually requires up to six weeks lead time for custom jobs, she also has "sale items" in stock which are shown on the website.
The Costume Shop, Branson, Missouri   –  (417) 338-8231.   – Tamara Watkins tells us that they have many "retired" period dresses for sale, some at rock-bottom prices.  She also has some vests for men.   She suggests calling  to discuss your needs.
You don't have to spend a bundle though!  In fact, you may have your costume already in your closet!  Some easy ideas for kid's pioneer costumes can be found here.
More easy ideas for women and men can be found here.
ΘΘΘΘΘΘΘΘΘΘΘΘ
Kids Activities
All kids activities will be held in the Youth Event Area!
SATURDAY, OCTOBER 7th



11:30 AM

– Three Legged Race!
1:00 PM

– Water Carrying Race!
2:00 PM

– Sack Races!
4:00 PM

– Egg Toss Contest (all ages)!
Θ

Θ

Θ

Θ

Θ

Θ
SUNDAY, OCTOBER 8th



11:30 AM

– Three Legged Race!
1:00 PM

– Water Carrying Race!
2:30 PM

– Sack Races!
3:30 PM

– Egg Toss Contest (all ages)!